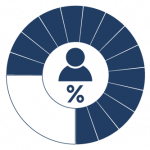 SKILL BASED ASSESSMENT AND TRACKING
Students' competence evaluation according to the official qualification requirements in all learning environments (e.g. workplace, school based training, e-learning environment, training simulator, etc.).
Visualization of students progress, accumulated and lacking knowledge.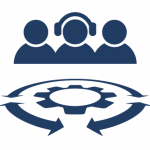 MANAGEMENT OF WORKPLACE LEARNING
Traineeship management, remote control and automation of communication between a student, workplace instructor and teacher.
Workseed is usable on smartphones, anywhere, anytime.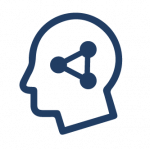 INDIVIDUALIZED LEARNING PATHS
Practical training and other portfolio exercises, considering the existing expertise of students and the needs of special support.
Shared content development by pedagogical experts and professionals.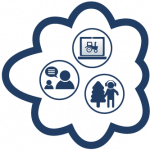 Connect student information systems, the most popular online learning environments (e.g. Moodle) and training simulators with Workseed.
LTI compliant solution
Saves administrative work up to 4 hours per week.
Simple to use with the minimal needs of training.
Systematizes the tracking and development of students.
Motivates and assists to create a professional portfolio.
Suitable for students with special needs.
Visualizes the structure of the qualification and the means to acquire the missing competence.
ENTERPRISES AND TRAINING PLACEMENTS
Clarifies students' guidance and increases interaction between workplace instructors, teachers and education providers.

Modern web-based student guidance impacts positively on the employer branding.
Suitable for all sectors and qualifications such as automotive, forestry, construction, electrical, social and health, business, tourism and catering.
Enhances the legal and data protection of the student and the education provider. All customer information is retained within the EU and the service complies with the GDPR.
Our teachers are excited about Workseed! Finally there's an easy to use tool for managing and tracking skill assessments easily and exactly as required on the official vocational qualifications. We can see Workseed as an umbrella linking all our learning environments smart way. No matter where the learning happens, only few clicks needed for making accurate assessments either on mobile or at the school.

Thanks to Workseed's visualizations our students also finally see the big picture of the professional skills needed on occupation.
Workseed offers teachers means for coaching approach to work. As a result students are more independent and active with improved self-confidence and persistence.
Our workplace instructors thank us for deploying Workseed. Automatised assessment process for on-the-job periods save instructors working time and increases their feedback to students.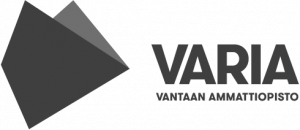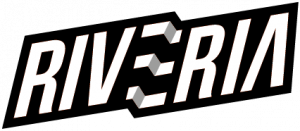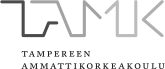 CERTIFICATION OF PEDAGOGICAL QUALITY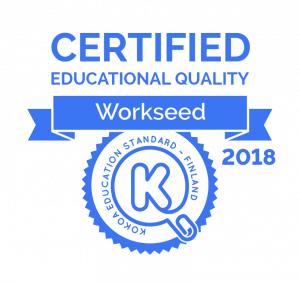 Workseed's pedagogical approach is solid, allowing teachers to design or pick learning activities according to the needs of learning.
Consistency in assessment is crucial when supporting the development of vocational skills. As students receive feedback from teachers, internship instructors and peers, Workseed solves a problem of fragmentation.
Through assessment & reflection, Workseed supports development of large variety of skills, from creative problem solving to collaboration skills
Allows students to evaluate & reflect of own learning processes in a meaningful way.
More information?
Contact us today:
sales@workseed.fi or +358 40 648 1188
WORKSEED OY
Laserkatu 6, Building C
FI-53850 LAPPEENRANTA FINLAND